Hello to you all !!!
As you can see, Prizee changed the interface of the site as intended.
So do not panic, nothing changes, except that we no longer have our good old Bronze rank (1-2-3-4), Silver (1-2-3-4), Gold (1-2-3-4) and Platinum (1-2-3-4) !!!
Our old ranks, which were a total of 16, are now a maximum level of 13 with a change in our Treasure Chest !!!
Our Treasure Chest has been changed according to your days of connection, a little mixing it together and it gives the rank (Treasure Chest) you have today...
The New ranks:
Here are all the 13 new Treasure Chest Ranks:
1. Can Treasure Chest
2. Shoe Treasure Chest
3. Hat Treasure Chest
4. Piggy bank Treasure Chest
5. Wallet Treasure Chest
6. Valise Treasure Chest
7. Wooden Treasure Chest
8. Iron Safe (The first Chest that you see)
9. Wooden-box Treasure Chest
10. Metal Treasure Chest
11. Gold Treasure Chest
12. Diamond Treasure Chest
13. Safe-deposit box with Diamonds
If you want to view all of these 13 new Ranks: Click here
Here is what my ranks is today:
I have 2 more ranks left to obtain:
Platinum Treasure Chest:
Big Diamond Chest:
P.S. Yes, this is also how the new ranks are going to look on the forum for all of us. Take a good look...
About the V.I.P. Tickets:
Quote :

You get access to the Silver V.I.P. Ticket on level 4 also called Valisette en carton meaning Cardboard suitcase
Quote :

You get access to the Gold V.I.P. Ticket on level 8 also called Coffre artisanal en fer forgé meaning Wrought iron safe
Quote :

You get access to the Platinum V.I.P. Ticket on level 12 also called Coffre impérial en platine massif meaning Imperial solid platinum safe
To play your games, you still have the visual Blue Goes: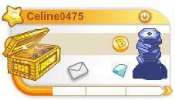 Clicking on a game of your choice, 1 token will be deducted from your actual number of tokens.
For the Club Prizee Goes, again, do not panic, select a Club game and you'll see your Violet Goes: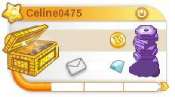 For the Secret Games, you will find them in the Games Library (Ludothèque) to play them, you'll always have your goes credited daily.
Little piece information:
By passing the mouse over your ID, you will see your days of connection, date and time of registration.
Like in the image below:
Well now, I suppose we can choose our favorite games, I have not tested it yet, having made this topic in an emergency...
Best of luck !!!
The Administrators message:
Quote :

Missprizee (Administrator)
Posted on 29/09/2009 at 15:27

Hello everyone!

I'll try to explain here where you find your games, goes, etc. ...

Regarding the favorite games:

To change the game, you must visit the Games Library, then click the + on top of the game you want to share with anyone who does not interest you.
Your top "favorite games" has 8 slots, but you still have 10 games to play (if you're in the Club, double goes).

Regarding the color chips:

When you're subscribe to Club Prizee, you'll find your Violet Chips when you play a Club only game.

Days of presence:

An information tab with your registration date and your days of presence opens if you place your mouse on your nickname!

To return to Level 1...

For Club Prizee members: To return to level 1, click on the game menu, click the star "Level 1" at the top right.
For games Sinkyfrog's Ark and Guardian Angel, you must click on the game menu, then click Play, then click the star "Level 1" on the top right.

Best of luck